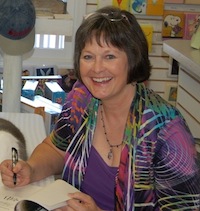 Listen to the interview by clicking the arrow on the audio player below.
I find most career paths interesting, but I have a decidedly soft spot for stories that involve second acts. For example, you might remember my conversation with John Safkow, the longtime flight attendant who left the airlines to become a gorilla caretaker.
In this episode featuring author C. Hope Clark, I learned that the work Clark is doing these days—penning mysteries and mentoring other writers—follows a decades-long career with the U.S. Department of Agriculture. In fact, Clark managed to take the darkest days of her time as a government employee—when a bribery attempt turned her life upside down—and convert that ordeal into page-turning fiction.
About C. Hope Clark: C. Hope Clark was a government employee for 25 years before turning her full attention to writing. As an Administrative Director within a federal agency, she managed budgets, loans, grants, human resources, and procurement—work that gave her a lifetime supply of story ideas. She is currently writing a mystery series; the first book in the series, Lowcountry Bribe, was published earlier this year by Bell Bridge Books. Clark also manages FundsforWriters.com, a website and newsletter service she founded in 2000 that now reaches over 45,000 subscribers. Writer's Digest has recognized the site in its annual 101 Best Web Sites for Writers for a dozen years.
Podcast: Download