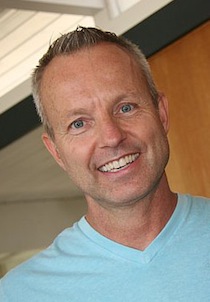 Listen to the interview by clicking the arrow on the audio player below.
John Safkow was a flight attendant for more than twenty years before he left the airline industry to become a gorilla caretaker. (Yes, he reports that, by and large, gorillas are in fact more evolved than airline passengers.)
I wanted to talk to John in part because his career path is unique: he is, it seems, quite literally the only flight attendant-turned-gorilla caretaker on the planet. But I was also struck by the fact that John's story has lessons for us all: he pulled off a mid-life career change that might have seemed impossible, and just as he pursued his childhood passion for flying in his first career, his second career is also centered around a personal passion: caring for animals.
About John Safkow: John Safkow worked for United Airlines and several other carriers for over 20 years before taking a job at The Gorilla Foundation in Woodside, California. The Gorilla Foundation is home to Koko, whose ability to communicate using American Sign Language has made her the world's most famous gorilla.
Even though John no longer works as a flight attendant, he remains a close observer of the airline industry's ups and downs, which he chronicles on his cheeky and informative website MarthaStewardess.com.
Podcast: Download