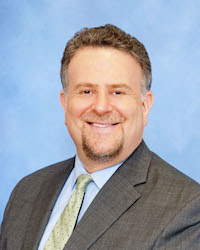 Listen to the interview by clicking the arrow on the audio player below.
Thanks to Facebook, I recently learned that a college classmate of mine started a program called the Doctors of Tomorrow. The program connects ninth graders from Cass Technical High School in Detroit with medical students and doctors at the University of Michigan Medical School.
The goal  of the program, which is now entering its second year, is to stimulate interest in a career in medicine among minority high school students, and to provide the type of information and mentorship that might help pave the way.
Someone who loves what he does so much that he wants to inspire the next generation? I fired off an interview request within seconds.    
About Jonathan Finks: Dr. Finks is a Clinical Assistant Professor of Surgery and Director of the Adult Bariatric Surgery Program at the University of Michigan. His clinical interests are in the areas of minimally invasive general and bariatric surgery. Dr. Finks' research interests focus on collaborative quality improvement with bariatric surgery. He is also the director and founder of the Doctors of Tomorrow Program, a community outreach program of the University of Michigan Medical School in partnership with Cass Technical High School of Detroit.
Podcast: Download