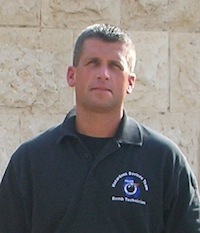 Listen to the interview by clicking the arrow on the audio player below.
Why would someone choose to be the one tasked with moving towards the bomb?
I asked a few other questions, but when it comes right down to it, that's what I really wanted to know. Bomb Squad Commander Robert Conroy was ready with answers.
About Robert Conroy: Robert Conroy has been an active duty law enforcement officer with the Baltimore County, Maryland, Police Department for over 19 years and is presently the Bomb Squad Commander of the Hazardous Devices Team. His experience as a bomb technician began in 1999 after he completed his formal training at the FBI Hazardous Devices School located at Redstone Arsenal in Huntsville, Alabama. In his tenure as a bomb technician, he has responded to and safely mediated over 2,200 calls for service relating to explosives, military ordnance, and/or hazardous devices. Conroy was in the United States Marine Corps for four years prior to his law enforcement career.
Podcast: Download