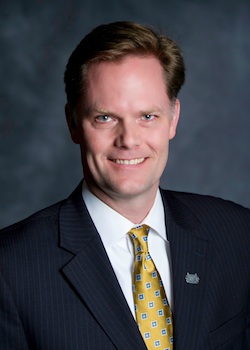 Listen to the interview by clicking the arrow on the audio player below.
For most people, attending a funeral falls somewhere between 'pretty grim' and 'completely gut wrenching.'
So I got to wondering: what is it like to attend funerals almost every single day? What is it like to have death at the very center of your life's work? Who would make such a choice, and how on earth do they keep themselves from getting depressed?
Funeral Director Ashley Cozine of Cozine Memorial Group in Wichita, Kansas tackled all of these questions and more. He struck me as cheerful, genuine, and motivated above all else by a desire to be of service to people in pain. I came away from this interview convinced that I could never be a funeral director myself—but I also came away feeling very grateful that there are such people standing by to guide us when we need them.
About Ashley Cozine: Ashley was born and raised in Wichita, Kansas. He is a third generation funeral director and has worked in his family's funeral home since he was in high school. He received a B.A. from the University of Kansas, a diploma in social studies and political theory from Oxford University in England, and an M.B.A. from Friends University. He is a past president of the Kansas Funeral Director's Association and currently serves on the Executive Board of the National Funeral Director's Association. In addition, he has served as a volunteer group facilitator for Three Trees, a center for grieving children and their families.
Podcast: Download