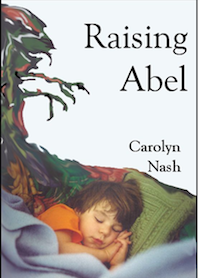 Listen to the interview by clicking the arrow on the audio player below.
This episode features an interview with Carolyn Nash, the author of a newly published memoir called Raising Abel. 
In Work Stew's young life, I've profiled quite a few writers: an investigative reporter, a screenwriter, a speechwriter, and a writer of short stories. (I'll admit to a weakness for people who work with words.)
What intrigues me about memoir writers in particular is the lack of separation between their life and their work. Most of us distinguish between our professional selves and our personal selves, but for the writer of a published memoir, life is work and work is life.
About Carolyn Nash: Carolyn Nash (not her real name) is a California-based writer. As a single 37-year-old, Carolyn adopted Abel, a three-year-old who came to her as a foster child having endured horrific abuse at the hands of his biological parents. Raising Abel is the story of the extraordinary path Carolyn and her son have travelled together over the last 18 years.
Podcast: Download