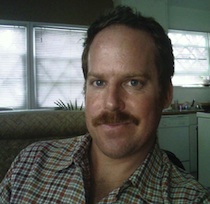 Listen to the interview by clicking the arrow on the audio player below.
Scott Urner makes a living writing closed captioning for adult films. That's a pretty unusual job, which is one reason I wanted to interview Scott. But I also wanted to talk to Scott because I think he's part of a wider theme in the work world, which is that many of us end up in jobs that we never planned on doing. In fact, many people land up in roles they never even knew existed. And yet, as Scott says about his own work, sometimes things turn out just fine: Scott enjoys what he does, and he appreciates the fact that his flexible, work-at-home schedule allows him to pursue his own creative projects. And, no, "creative projects" is not a euphemism. Stop that.
About Scott Urner: Scott Urner has a B.A. in English Literature from UCLA and a MFA in Film Production from Loyola Marymount. He has produced, written, and acted for National Lampoon (a short film), TBS (Burly TV), Playboy (the hidden camera show "Totally Busted"), and Fox Sports Net (a sports comedy pilot).
Podcast: Download