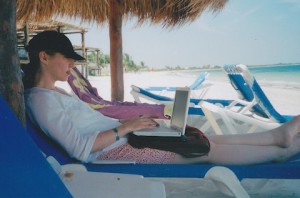 Listen to the interview by clicking the arrow on the audio player below.
You wouldn't know it from the photograph, but Alethea Black has worked hard at being a writer. Her first collection of short stories, I Knew You'd Be Lovely, came out last month. Since then, her life (at least from the outside looking in) has been one long party: readings at New York's hottest spots, rave reviews, wine, cheese, more wine! But what was the run-up to the party like? That's what I most wanted to know. I've always imagined that it must be pretty easy to call yourself a writer after your first book comes out…but what do you call yourself, and how do you persevere, in the years and years before that? Alethea was refreshingly frank about her writerly life, and I found myself admiring, and coveting, her gentle strength.
About Alethea Black: Alethea Black was born in Boston and graduated from Harvard College in 1991. Her debut collection of short stories, I Knew You'd Be Lovely (Broadway Books/Random House), was chosen as a Barnes & Noble Discover Great New Writers pick for Fall 2011, and is an Oprah.com Book of the Week. The winner of the 2008 Arts & Letters Prize, Alethea lives in Dutchess County, New York.
Podcast: Download