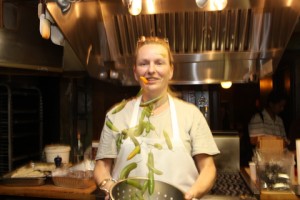 Listen to the interview by clicking the arrow on the audio player below.
Many amateur chefs dream of leaving their office jobs, enrolling at cooking school, and then going to work at one of the world's best restaurants. But only a few follow through. After all, cooking school is expensive, and restaurant jobs are known for their grueling hours and low pay.
But Anette Kreipke did follow through: two years ago, she left her marketing job to study at the French Culinary Institute. She now works at Daniel, a three-Michelin-star restaurant in New York City. What I loved about my conversation with Anette was that she was so forthcoming: I came away knowing what cooking school costs and what jobs like hers pay. Best of all, Anette described what she actually does for twelve hours a day, six days a week (spoiler alert: it involves 400 pounds of chicken bones).
About Anette Kreipke: Before turning to cooking, Anette Kreipke worked in client services for Sapient Interactive, Razorfish, and Ogilvy Action Digital—all marketing agencies focused on developing digital advertising campaigns. Anette also has start-up experience, and, in earlier days, she put her Columbia MBA to use as an investment banker focused on privatization projects in developing markets including Mongolia, Ethiopia, Egypt, and the Balkans.
Photo credit: Eileen Miller
Podcast: Download