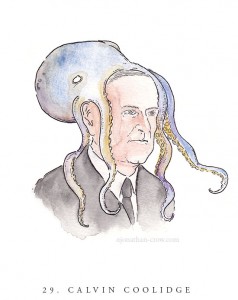 Listen to the interview by clicking the arrow on the audio player below.
For many of us, the past few weeks have been especially hard and depressing. As a nation, and as individuals, we are grappling with a host of painful issues. And grapple we must; bending that long arc towards justice is arguably the one job we all share. That said, it's a tough job, making moments of comic relief not only acceptable, in my view, but necessary.
Yesterday, my moment of comic relief came via the work of artist Jonathan Crow. My response to his Veeptopus series, which I glimpsed by chance in my Facebook feed, was to laugh out loud. I was grateful for the guffaw, and curious, too. Personally, I didn't need a why, but I still wanted to know if there was one. So I called Crow and asked: why put an octopus on the head of every U.S. vice president?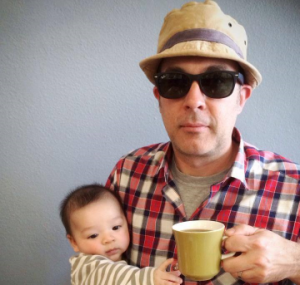 About Jonathan Crow: Jonathan Crow was born in Toledo, Ohio. He grew up in Bowling Green and currently lives in Los Angeles, with stops in Austria, Boston, and rural Japan along the way. He spent much of his misspent youth getting largely useless graduate degrees, including an MFA in Film from CalArts. When not drawing pictures, he is a screenwriter and a writer whose work has appeared in Yahoo! Movies, The Hollywood Reporter, The History Channel, Open Culture and other publications. His Etsy shop is completely delightful.
Photo notes: both images are used with permission from Jonathan Crow.
Podcast: Download