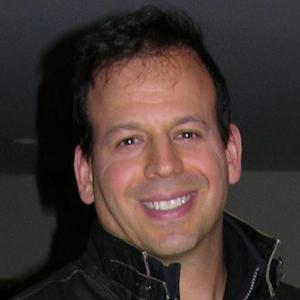 Listen to the interview by clicking the arrow on the audio player below.
As many Work Stew readers know, I stuck with a job that was wrong for me for far longer than I should have. I experienced what I now view as a colossal failure of imagination, remaining in PR in large part because I wasn't sure that a radical change was really feasible. To help me think more creatively about my options, I started to collect other people's stories here at Work Stew—not because I thought I might switch to, say, python hunting or high-rise window washing but rather to drive home (to myself if no one else!) just how many possible paths there really are.
In stark contrast to me, Eric Weinstock has not suffered from a lack of imagination—far from it. In this interview, he explains how he went from law to dentistry to screenwriting. I love that he was prepared to train anew when he realized he didn't want to practice law, and I love that performing root canals for a living did not, in his view, rule out the prospect of also writing scripts. I suspect that many more of us might lead such rich, hyphenated lives ("Hi, I'm an Endodontist-Screenwriter!") if only we knew that it is in fact possible.
About Eric Weinstock: Eric Weinstock is a Board-certified Endodontist (root canals and oral surgeries) with a solo practice in Canton, Massachusetts. In addition to private practice, Dr. Weinstock serves as the course director for the Ethics and Professionalism in Dentistry class at Tufts University School of Dental Medicine. He is past-president of the South Shore District Dental Society and a Fellow of the American College of Dentists. He started a yearly campaign called the Dental Care Drive which involves collecting dental supplies from local dentists and distributing these supplies (in coordination with an organization called Jewish Family & Children Services) to the underserved of the greater Boston community. Prior to his dental training, Dr. Weinstock earned a J.D. from the University of Virginia School of Law, and occasionally serves as an expert witness in malpractice litigation.
Outside of dentistry, Eric Weinstock is a contest-winning screenwriter of short and feature films, with several projects currently in various stages of development. His dramatic comedy, A Perfect Smile, about a womanizing dentist on the run, is in pre-production, with Tom Sizemore, Andy Dick, Sally Kellerman and David Proval currently attached.
His film, The Key, about two young lovebirds, Carla and Dan, who try to salvage their relationship following a wild one-night romp by Dan, is also in pre-production with plans to shoot this spring/summer in NYC, following what will hopefully be a successful Kickstarter campaign.
Podcast: Download