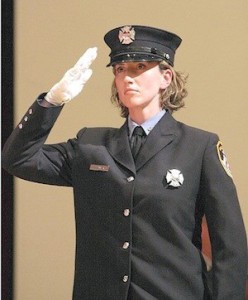 Listen to the interview by clicking the arrow on the audio player below.
As it happens, I've now interviewed three New Yorkers who made radical career changes after 9/11: Jane Viau left investment banking to become a high school math teacher; Hayes Slade co-founded an architectural firm with her husband; and Christine O'Connor (pictured here) decided to become a firefighter.
Of the roughly 10,000 firefighters in New York, only 28 are women. In this interview, Christine describes the moment she decided to take the FDNY's entrance exam, the rigorous training involved, and what it takes to make it as one of the guys. Spoiler alert: a good sense of humor and a lot of time at the gym.
About Christine O'Connor: Christine O'Connor is a native New Yorker who worked as an administrative assistant for 12 years before applying to the Fire Department. At her FDNY graduation ceremony, she was the lone female among 274 newly-minted firefighters.
Podcast: Download