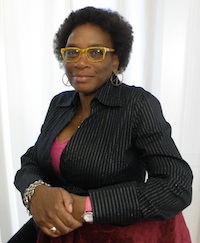 Listen to the interview by clicking the arrow on the audio player below.
When I first connected with Beatrice Hogg, she said she wanted to share her story to show people that "being over fifty and long-term unemployed isn't the end of the world." In this interview, she shares the events that derailed her original career, and she discusses her next steps.
About Beatrice Hogg: Beatrice M. Hogg was born in Greensboro, North Carolina and raised in the coal-mining town of Lawrence, Pennsylvania. She has a B.A. in Social Work from the University of Pittsburgh and an M.F.A. in Creative Writing from Antioch University Los Angeles. Since moving to California in 1988, her articles and essays have appeared in many publications and anthologies. She spent over twenty years working in the social services field, including work determining eligibility for public assistance programs, unemployment insurance benefits, Social Security benefits, and Supplemental Security Income. For five years, she facilitated a writing workshop for women at St. John's Shelter Program for Women and Children in Sacramento, CA. Genesis Press published her novel "Three Chords One Song" as an e-Book in 2012. She is working on "WTF: Five Years of Bad Decisions," a book about her experiences as a long-term unemployed woman over fifty. Her short essays on family, music, and more can be found on her blog, Marvellaland.
Podcast: Download