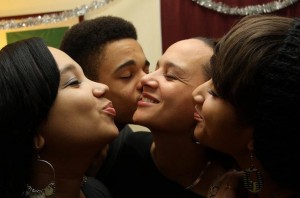 Listen to the interview by clicking the arrow on the audio player below.
Brief note from Work Stew editor Kate Gace Walton: Sometimes I request an interview because the specific job that someone does is intriguing to me; for example, this was clearly the case when I talked to an air traffic controller, a high-rise window washer, and a python hunter.
Other times, what I'm most interested in discussing is not so much a specific job, but rather work in the broadest sense: the work of being a parent, the work of making a living, and the work of helping to shape the world in which we live. That's what Bethany Allen and I discussed in this interview (which I'm releasing a few days early because it's longer than usual). As always, thanks for listening.
About Bethany Allen: Bethany M. Allen is a writer and editor living in the Boston area and the proud mother of three (adult) children. She is currently working on a trilogy of original screenplays and a book about family, race, identity, and love.
Photo: used with permission from Bethany Allen. Allen (second from right), surrounded by her children.
Podcast: Download