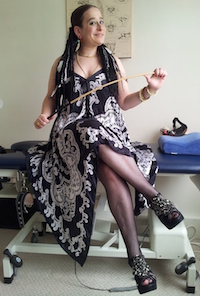 Listen to the interview by clicking the arrow on the audio player below.
Sex workers, even those operating legally, risk being treated as criminals. Many also face relentless moralizing from family, friends, and casual acquaintances. I wanted to talk to someone who endures all that—to find out how, and why.
In this interview, professional dominatrix Margaret Corvid explains what her work involves, how she got started, and why she's stayed at it.
About Margaret Corvid: Margaret Corvid is a writer, activist, and professional dominatrix living in the South West of the UK. She blogs for the New Statesman and has appeared recently in Cosmopolitan.com, the Guardian, Jezebel, and xoJane. She tweets at @mistress_magpie.
Podcast: Download