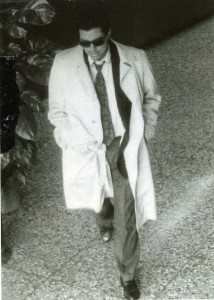 Listen to the interview by clicking the arrow on the audio player below.
I wanted to speak with Joe Loya not because I see criminality as a career path, but because it is a life path for many:  it's hard to find good information on the number of Americans who have been convicted of a felony, but one estimate from the Bureau of Justice Statistics holds that 1 in 37 U.S. adults has served time in a  state or federal prison. I wanted to hear Joe's story: how he came to rob his first bank, what it was like to live a life on the run, and what has changed—and not changed—since then.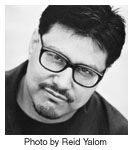 About Joe Loya: Joe Loya is an essayist, playwright, actor/director, and author of the critically-acclaimed memoir, "The Man Who Outgrew His Prison Cell: Confessions of a Bank Robber." His essays have appeared in The LA Times, The UTNE Reader, McSweeney's, and many anthologies. He is currently writing a book about being an ex-con dad trying to raise a good daughter. It's titled, "Dada, Tell Me A Zombie Story." (Like him, she loves all manner of resurrection narratives.)
Photo credits: 'Before' and 'After' provided by Joe Loya. Before (right): FBI surveillance photo from 1988. After: author photo taken by Reid Yalom, 2004. 
Podcast: Download