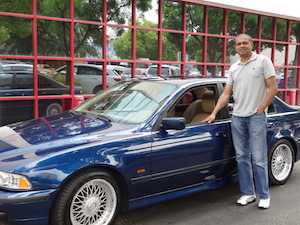 Listen to the interview by clicking the arrow on the audio player below.
I'm always drawn to stories that involve connecting a job to a childhood passion. In this interview, entrepreneur Wilfred Martis told me about his "jobby"—the first role he's had that  melds his professional pursuits with his life-long passion for cars.
About Wilfred Martis: Wilfred is the founder of CHARIOTZ.com, a photo-based storytelling site for the custom and classic automobile markets. CHARIOTZ helps auto enthusiasts get inspired, discover new ideas, and then connect with modification/restoration businesses that can turn their dreams into reality.
Prior to founding CHARIOTZ, Martis was the Vice President of Marketing and Business Development at Soraa Inc., a leading developer of LED lighting products. Martis also spent 13 years at Intel, in several engineering, business and management roles, primarily focused on the consumer electronics and embedded markets. Most recently, he was the General Manager of Retail Consumer Electronics, where he was responsible for Intel's Digital TV and Blu-ray business. Martis also founded and ran Vistify, an Internet Appliance start-up incubated by Panasonic.
Martis holds a BSEE from Bangalore University, India, an MSEE from the South Dakota School of Mines & Technology, and an MBA from the Wharton School of the University of Pennsylvania.
Podcast: Download