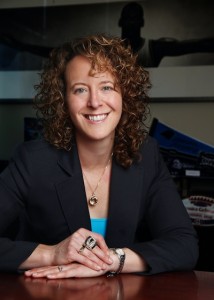 Listen to the interview by clicking the arrow on the audio player below.
When I graduated from business school in 1998, the vast majority of my classmates went into banking or consulting. Some may well have had a passion for these paths, but many were simply being practical: they had taken on enormous student loans to fund their MBAs, and the starting salaries in finance and consulting are high. Fifteen years later, almost all my classmates have changed employers several times, and many have changed industries.
So, when I read that Jessica Gelman was still working with the same organization that hired her out of business school, I knew her story had to be special. And indeed it is: she pursued her passion for sports with such gusto that she landed her dream job pretty much from the get-go—and in twelve years it's only gotten dreamier.
About Jessica Gelman: As The Kraft Sports Group's Vice President of Customer Marketing & Strategy, Gelman leads key business initiatives for the New England Patriots, New England Revolution, Gillette Stadium, and Patriot Place. In addition, Gelman co-founded and continues to chair the annual MIT Sloan Sports Analytics Conference, the first and largest analytically-focused sports business conference.  
Prior to the Kraft Sports Group, Gelman worked as a strategy consultant at the Mitchell Madison Group. Gelman earned an MBA from Harvard Business School and a BA, cum laude in psychology, from Harvard College. She was honored as Harvard Female Athlete of the Year after leading Harvard to consecutive Ivy League Basketball Championships and NCAA Tournament appearances. Subsequently, she played professionally in Europe. 
Podcast: Download