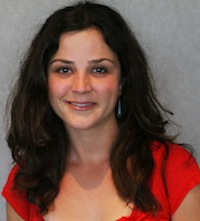 Listen to the interview by clicking the arrow on the audio player below.
I typically feel a special affinity for people who can't fully process the phrase "work-life balance"; it implies that "work" is somehow distinct from "life" in a way that's never really made sense to me. We didn't talk about this point specifically, but I think filmmaker Michelle Paster would instinctively understand my point. For her, life and work are firmly intertwined: for example, she's spent the last year going on 365 dates—and writing about it for publications like the LA Times. And before that, as a recent college grad trying to figure out her own career path, she made a short documentary film, Jobs for Rent, about three twenty-somethings trying to kickstart their working lives.
About Michelle Paster: Paster's background is in journalism and documentary film. She has been published in the LA Times, LA Weekly, IDA's Documentary Magazine, AOL's Patch.com, Phoenix New Times, Studio Daily's Film & Video Magazine, and The OC Metro. She served as the Managing Editor of the American Film Institute Film Festival's The Daily News, interviewing such filmmakers as Darren Aronofsky, Emilio Estevez, David Lynch, and Zhang Yimou. She has written documentary film scripts for various clients, and her documentary producing work includes the feature Meet the Hitlers (2013), My Amityville Horror (2012), and Jobs for Rent (2010).
Podcast: Download