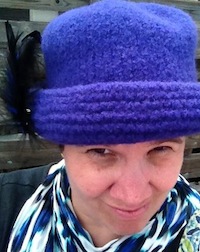 Listen to the interview by clicking the arrow on the audio player below.
Given that some law students, struggling to find jobs after graduation, are now suing their alma maters, I was surprised to discover via Facebook that a high school classmate of mine had chosen to take the law school plunge—at age 40.
During the interview, I quickly learned that law for Laura McKenzie is not something she's pursuing for her own financial security; rather, law for her is a decades-old calling tied inextricably to her faith. Hold the lawyer jokes. Check the cynicism. Even as a life-long skeptic, I found McKenzie's utterly earnest desire to become a "practitioner of hope" extremely compelling.
About Laura McKenzie: Before embarking on law school, McKenzie earned a B.A. in Religion from Barnard College, an M.A. in Religion from the Trinity Episcopal School of Ministry, worked as a legal assistant, and spent more than ten years as a stay-at-home mom. She is now in her second year of studies at Belmont University College of Law in Nashville, Tennessee.
Podcast: Download