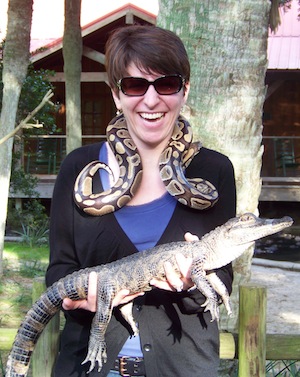 Listen to the interview by clicking the arrow on the audio player below.
This interview is intended primarily for listeners of the Manic Mommies podcast. Recently, an episode of that podcast "disappeared." (This could happen to anyone. There are a lot of buttons to push.) Anyway, one of the conversational gems lost to the ether was a work-related chat with social worker Kristin Beckstrom Radcliffe. Kristin's career path sounded interesting, so—with a nod from Manic Mommies co-host Kristin Brandt—I recorded a brand new interview with Beckstrom Radcliffe.
Production note: for some reason, this new recording also has a few sound glitches. (Working theory: Kristin Beckstrom Radcliffe is actually a mermaid and at least part of her voice has been captured by an evil sea witch. Again, just a theory—and thanks in advance for using your imagination when the occasional word gets swallowed.)    
About Kristin Beckstrom Radcliffe: Kristin Beckstrom Radcliffe is a Licensed Clinical Social Worker, currently in private practice. Her wide-ranging career started out in Child Protection Services. She has also worked with delinquents, provided support to military families, and held school-based counseling positions. Kristin is the wife of a retired military officer and a mother of two, which may or may not explain why her bio photo includes several reptiles.
Podcast: Download