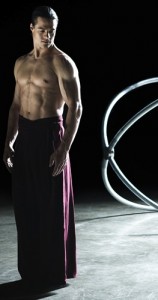 Listen to the interview by clicking the arrow on the audio player below.
Work Stew's essays and interviews have covered a lot of ground, but with a handful of exceptions, most of the site's contributors are people whose work involves a lot of sitting down. This week, I felt it was time to talk with someone who is almost entirely desk-free. Cirque du Soleil artist Jonathan Morin not only moves for a living; he invents completely new ways to do so.
About Jonathan Morin: Montreal native Jonathan Morin trained and competed as a world-class gymnast before taking his talents to Cirque du Soleil, where he first performed as an aerial artist in Quidam. Since 2005, he has focused exclusively on an apparatus he developed called the "Crossed Wheel." As the founder of 2-zen-O, Morin has invested years exploring and refining the apparatus, and in 2011 he again joined forces with Cirque du Soleil—this time, as a main acrobatic character performing with the Crossed Wheel in the production of Dralion.
Podcast: Download