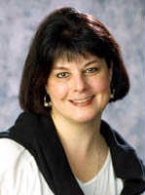 Listen to the interview by clicking the arrow on the audio player below.
I recently saw a documentary called Heckler, which started out by focusing on the loudmouths who interrupt stand-up comics but then went on to paint film critics with the same brush. "No kid grows up wanting to be a critic," said a filmmaker, suggesting that movie reviewers are invariably people who just couldn't make it in the business themselves.
Not true, I thought. Some people do in fact aspire to be cultural commentators. USA Today film reporter Susan Wloszczyna is one such person: she loves her work, and she'd recommend it to others—with the cautionary note that it's getting harder and harder to make a living at it.

About Susan Wloszczyna: In her 29 years at USA Today, Susan Wloszczyna has interviewed everyone from Vincent Price and Shirley Temple to Julia Roberts and Will Smith. Her roles at USA Today have included Life section copy desk chief for four years and a film reviewer for 12 years. Wloszczyna is currently a film reporter, focusing on trends and profiles. She previously worked as a feature editor at The Niagara Gazette in Niagara Falls, New York. A Buffalo native, she earned her bachelor's degree in English at Canisius College and a master's degree in journalism from Syracuse University.
Podcast: Download