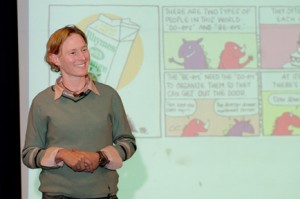 Listen to the interview by clicking the arrow on the audio player below.
Saying something funny every now and again is one thing. Being funny on demand—daily, for more than 16 years—is quite another. In this interview, Hilary Price explains how she came to make a living creating comics and what it takes to produce "gags" at a steady clip.
About Hilary Price: Hilary Price has been drawing and writing Rhymes With Orange, her daily newspaper comic strip, since 1995. It appears in 175 papers and has twice won "Best Newspaper Panel" from the National Cartoonists Society. Her work has also appeared in Parade Magazine, The Funny Times, People and Glamour. When she began drawing Rhymes With Orange, she was the youngest woman to ever have a syndicated strip.
Podcast: Download