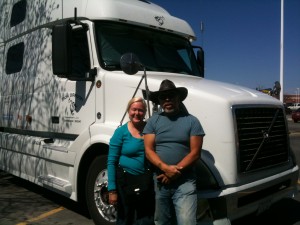 Listen to the interview by clicking the arrow on the audio player below.
In this episode, I talk to Gerald Wong and Susan Hicks Wong, a husband-and-wife team who make their living as long-haul truckers—and the first thing I learned was that they don't really use the term 'long-haul.' They're OTR (over the the road) truckers.
About Gerald Wong and Susan Hicks Wong: Gerald Wong is a Vietnam veteran who came to trucking in 1990 after an extended period of unemployment. For more than 20 years, he lived what he describes in the interview as the lonely life of the solo trucker.
But these days he has constant companionship: after losing her job as a graphic designer, his wife Susan, whom he met on Match.com nine years ago, decided to get a Commercial Driver's License (CDL) of her own. She was the only woman in her training class. Susan then joined Gerald on the road, and now they criss-cross the country together as owner-operators of "Iron Dragon," their 2007 Volvo VNL780 (pictured here).
Gerald's CB handle is Gizmo. You can find him on Facebook at Gizmo's America.
Podcast: Download