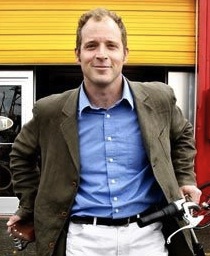 Listen to the interview by clicking the arrow on the audio player below.
Whenever I see high-rise window washers, I always think of Roko Camaj, an Albanian immigrant who worked at the World Trade Center for 26 years, before he died in the 9/11 attacks on the towers. I didn't know Mr. Camaj, although I happened to work with a relative of his; like millions of others, I learned about his life mainly by reading about him in The New York Times. One of the things that always came across in the profiles about him was how much he loved his work. Clipped in 1300 feet above the street, he reportedly found a freedom in it that gave him great joy.
Those two words, freedom and joy, don't come up all that often talking to people who sit all day in desk jobs. I've started to think that physical labor might bring with it both a sense of light heartedness and a sort of deep satisfaction that office jobs rarely do; that was certainly one take-away from Samantha Cole's essay about becoming a carpenter. I could never be a high-rise window washer—I'm far too afraid of heights—but I still feel like there's something to be learned from people who are able to do this kind of work, so I sought out David Schmidt.
About David Schmidt: David Schmidt began working as a high-rise window washer in his twenties and went on to own his own window cleaning company. After nearly two decades in the window cleaning business, David sold his company and started a new venture: the Dutch Bike Company. His bike business now has two locations, in Seattle and Chicago, and is growing fast. But David still cleans high-rise windows from time to time—just because he loves it.
Podcast: Download