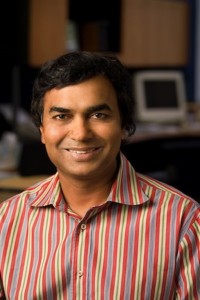 Listen to the interview by clicking the arrow on the audio player below.
This interview was conducted in part to continue the conversation that Work Stew essayist Norman de Guerre advanced in his piece, "Calling Our Callings." Whereas de Guerre writes that he has not yet found his calling, Google executive Gopi Kallayil says that he has in fact found a deep connection to, and deep satisfaction from, his work. In our conversation, Gopi suggests that fulfillment can be found in any job, provided you follow a few simple principles.
About Gopi Kallayil: Gopi Kallayil is a Group Product Marketing Manager at Google supporting the roll-out and adoption of Google's advertising products. Before joining Google, Gopi held leadership roles at Silicon Valley start-ups Nextance and Allegrix; he also worked as a consultant with McKinsey & Co. Gopi is a frequent public speaker. He recently gave addresses both at TedX Berkeley and the Wisdom 2.0 Conference.
Podcast: Download