Listen to the interview by clicking the arrow on the audio player below.
This episode of Work Stew presents an interview with Mark Britton, the founder, CEO and president of Avvo, an online resource that helps people choose lawyers and doctors by providing ratings and a forum for reviews. In the interview, Mark talks about how he went from a fairly traditional career path as a corporate lawyer to a pioneering role as an Internet entrepreneur.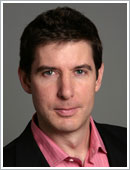 About Mark Britton: Before founding Avvo, Mark served as General Counsel for Expedia. Years of focusing on the potential for the Internet to aggregate information and allow for informed choice have turned Mark into a passionate advocate for consumers. He is a frequent television commentator on consumer issues, and has appeared on ABC's Good Morning America, Fox Business' America's Nightly Scoreboard, CNBC's Power Lunch, CNN Money and Dow Jones MarketWatch.
When Avvo first launched, it was welcomed by many as a breakthrough for consumers–but vocal detractors emerged as well. Listen to the interview to hear Mark's take on the class action lawsuit that was filed just nine days in.
Podcast: Download